Westone X120 Spectrum I/Spectrum Special/Spectrum Basic
Three different names for the same guitar:
First appeared in the August 1986 US pricelist as the 'Spectrum Special'
Appears in the April and Sept 1987 US pricelists as the 'Spectrum I'
Last appears in the Jan 1988 US pricelist, this time as the 'Spectrum Basic'.
This model does not appear in the August 1988 UK pricelist - it may either have been discontinued or may not have been available in the UK.
Available in black or white with a single angled Magnaflux humbucker, single volume and tone controls and a Tek Glide II trem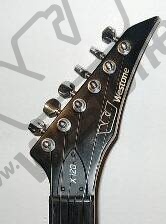 I wouldn't say the one on the left has been modified. I'd call it ruined....