Westone Concord Bass I
Single Hard Puncher I pickup, single vol and tone controls, 32.25" scale 21 frets, plastic nut. Solid Alder body, Hard Maple neck and fingerboard. There are at least three versions of this bass -
Early 1982
I'm guessing that this one dates from early 1982 - I have one with a 7 digit serial beginning with 205, indicating that it was made in May 1982. On this version, the scratchplate is black and matches the body contours on the top and bottom, and the front of the headstock is the same colour as the body. The serial number is on the neck plate, not on the headstock.

1982
As shown in the 1982/3 catalogue, the (White) scratchplate curves in towards the neck, not towards the upper horn. Headstock colour is the same as the body colour.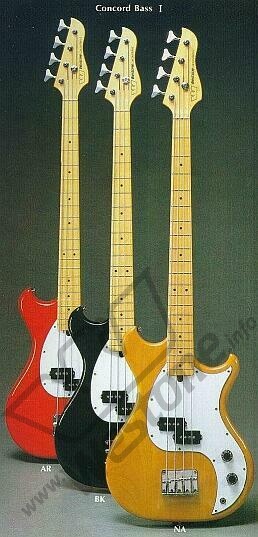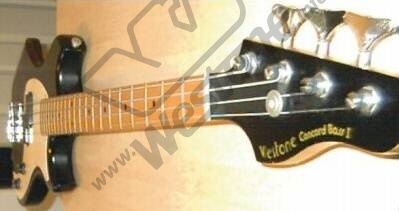 1983 onwards
As shown in the 1983 catalogue, the scratchplate curves in towards the neck , the headstock is natural finish regardless of the body finish, 'bird' W logo on the headstock (Both earleir versions had a script logo)
As far as I know this model was not produced after 1984
Buying tips - check the straightness of the neck. The neck on the Concord I is a single piece, not a laminate and thus more prone to warping.